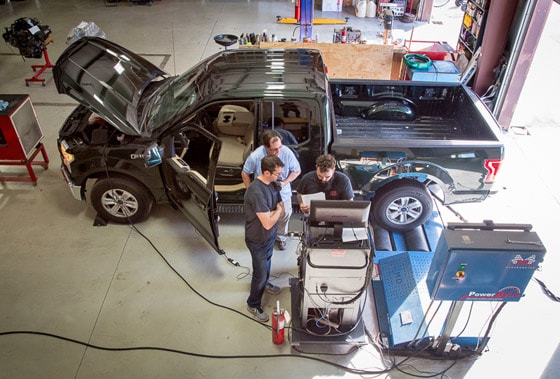 The Ford F-150 2.7-liter EcoBoost® V6 beat four competitors, including Ram 1500 3.0-liter EcoDiesel V6, in head-to-head mileage, payload and performance tests conducted by PickupTrucks.com
The
F-150
recognized for ideal combination of best-in-class gas mileage, great capability and strong driving performance
The 2.7-liter EcoBoost represents 30 percent of F-150 retail sales.
Real world testing between the:
2016 Chevy 1500
2016 Ram 1500
2016 Toyota Tundra
GMC and Nissan declined testing


Heralded by it's followers for real world testing, the folks at pickuptrucks.com asked each manufacturer to provide what the most fuel efficient package truck they thought would perform well in the test.


What the judges has to say about the Ford F150:

No. 1 2015 Ford F-150 XLT 2.7 Liter V-6 EcoBoost: Total Points 2,033
No. 2 2016 Chevy Silverado 1500 LTZ, 5.3 L V-8: Total Points 2,018
No. 3 2016 Ram 1500 HFE, 3.0 L V-6 EcoDiesel: Total Points 1,992
No. 4 2016 Toyota Tundra SR, 4.6 L V-8: Total Points 1,824

The Judges:
Mark Williams - PickupTrucks.com editor
Brian Wong - Cars.com Los Angeles bureau chief
Bruce Smith - freelance journalist who specializes in trucks and 4x4s
Kent Sundling - editor and owner of MrTruck.com
"In the end, we were impressed with the F-150 for its capability, fuel efficiency and composure when pushed hard, said Mark Williams, editor of PickupTrucks.com. "For a small V-6 engine, it's very impressive how well it almost eliminates the typical compromises half-ton customers have become accustomed to."
When equipped with the available 2.7-liter EcoBoost with standard Auto Start-Stop, F-150 4x2 has best-in-class EPA-estimated gasoline fuel economy ratings of 19 mpg city, 26 mpg highway and 22 mpg combined (actual mileage will vary).
The engine produces 325 horsepower and 375 lb.-ft. of torque with a maximum payload rating of 2,250 pounds and maximum tow rating of 8,500 pounds - ideal for meeting mid-range capability requirements and the needs of more than 90 percent of light-duty truck customers.
"We designed
Ford F-150
to be a game changer," said Doug Scott, Ford truck group marketing manager. "We're proud that customers and third parties recognize the all-new F-150 as the toughest, smartest, most capable and most efficient F-150 ever."
Original Post: February 15, 2016
source: media.ford.com & pickuptrucks.com