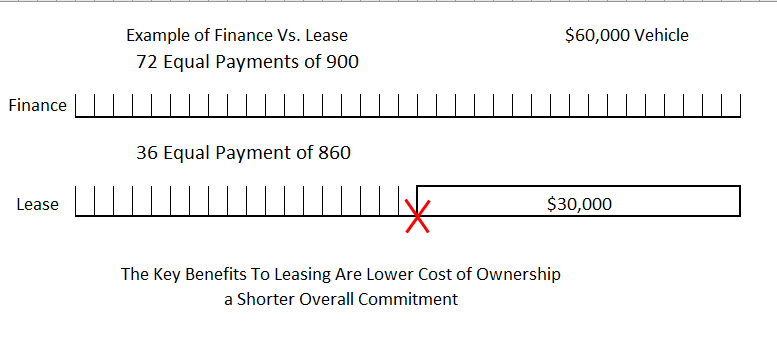 ►► When you Finance, you pay for, and are obligated to pay the entire cost of a vehicle, regardless if you trade the vehicle in mid-term. If the balance is more or less than you owe on the vehicle, this will create positive or negative equity. Many customers who finance vehicles and trade them before the end of the finance term are "upside down". 

The scenario where customers are "upside down" is more and more frequent, unfortunately, than being in a positive equity position. When you finance your vehicle, you can obviously modify your vehicle with custom paint and significant engine customization.

►► When you lease, you pay only a portion of a vehicle's cost, which is the part that you "use up" during the time you're driving it. Leasing is a form of financing and is not the same as renting. You have the option of not making a down payment, you pay sales tax only on your monthly payments (in most states), and you pay a financial rate, called money factor, that is similar to the interest on a loan. 

You may also be required to pay fees and possibly a security deposit that you don't pay when you buy. You make your first payment at the time you sign your contract ? for the month ahead. At lease-end, you may either return the vehicle, or purchase it for its depreciated resale value. You may be charged a lease-end disposition fee.
The above diagram is just an example to illustrate the basic structure of a lease.

►► What to know more? Give Us a Call.
If you would like to know more about the benefit of leasing, you can rest assured our staff is full training to assist you.
Hours
Monday

9am-8pm

Tuesday

9am-8pm

Wednesday

9am-8pm

Thursday

9am-8pm

Friday

9am-8pm

Saturday

9am-5pm

Sunday

Closed