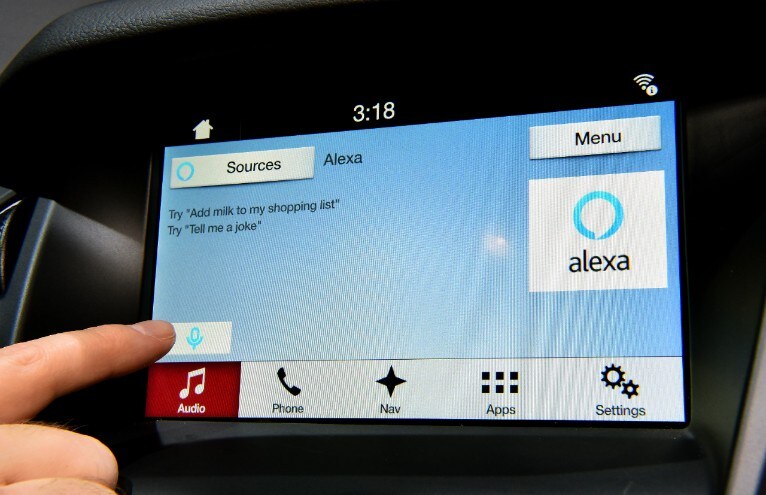 If you're reading this, chances are you're already familiar with Amazon's Alexa, and if not, why not? In an industry first move, Ford Motor Company and Amazon have teamed up to offer Ford owners an Alexa Integration - the most comprehensive ever in a vehicle.  Play & resume Audiobooks, order items on Amazon, Integration with the In-Car Navigation system and more, much more.

Here's a brief overview of what you can expect, both in the car, and at home thanks to Ford & Alexa! Enjoy.
Alexa and Ford: In the Car Features
This industry-first in-car capability through Ford SYNC 3 AppLink™ simply requires drivers tap the voice recognition button on the steering wheel, then say "Alexa," followed by a question or command. Ford is currently beta-testing this experience with employees.
Inside the vehicle, drivers can ask Alexa to locate a desired destination. Alexa will use the vehicle location to find nearby businesses. For example, customers could say, "Alexa, find the nearest Italian restaurant." Once the driver chooses the desired destination, Alexa can transfer the address to the SYNC 3 navigation system.
Customers can also continue experiencing their favorite books from the road. Using Whispersync for Voice, Alexa will switch to an Audible audiobook recording to resume reading where the driver left off.
Customers can also access many Alexa smart home devices to control lighting, security systems, thermostats and more from the vehicle.
Alexa and Ford: at Home
Through Alexa, Ford plug-in electric vehicle owners can easily control their vehicle from home using Amazon Echo, Echo Dot or Amazon Tap. Speaking to Alexa through one of these devices, they can:
Start or stop the engine
Lock or unlock doors
Check range and charge status
Learn fuel level
Obtain a vehicle mileage summary
At home, interactions with Alexa could include:
User: "Alexa, ask MyFord Mobile to lock my car."
Alexa: "Sending lock command to your car."
User: "Alexa, ask MyFord Mobile to start my car."
Alexa: "Sending start command to your car."
User: "Alexa, ask MyFord Mobile for my range."
Alexa: "Your vehicle is 83 percent charged. Electric range is 17 miles, fuel range is 216 miles and overall range is 233 miles."